I. Features:
● Integrated design: machine adopts an integral welding frame, the smallest model occupies 2 sqm. Wheels make it easy to move around.
● Conveyor belt automatically send finished material to collecting area.
● Equipped with electric oscillating Tool(EOT), it can cut material up to 6mm, enable to process variable materials.
● Pneumatic creasing tool, tool pressure up to 4Kg, creasing clear and easy to bend. Card paper more than 400g can be processed.
● Equipped with two graphic cutting tool (Drag knife), separate cutting pressure and depth can be set, which makes operation much convenient when change cutting materials frequently.
● Three type tools are available and they can be switched automatically by the system.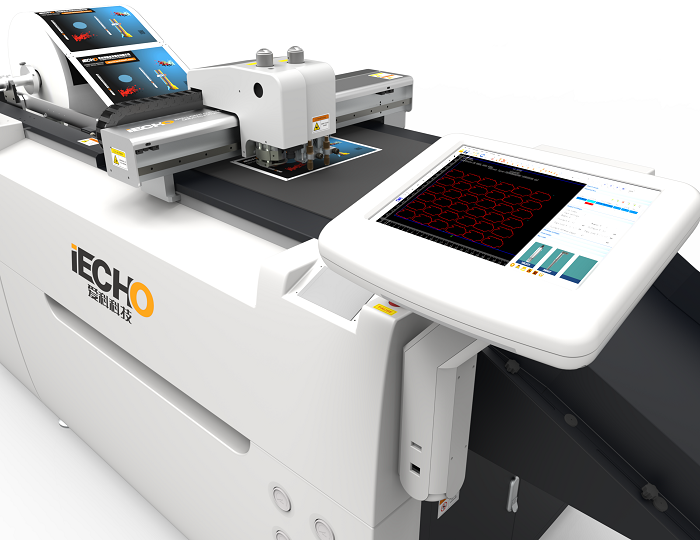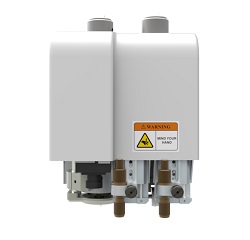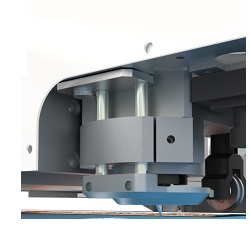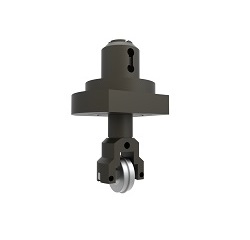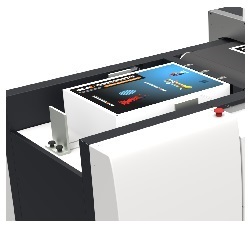 II.High precision vision registration system (CCD):
With high definition CCD camera, it can make automatic and accurate registration contour cutting of various printed materials, to avoid manual positioning and printing error, for simple and accurate cutting.
Dot/ cross mark

Backside CCD registration cutting.

Edge-scanning positioning cutting: To make positioning contour cutting on printed materials by scanning material edges.
III.Automatic sheet loading system:
Automatic sheets loading system suitable for printed materials automatic processing in short run production. Allow material stack up to 120mm (400pcs card board of 250g).
IV.QR code scanning system:
iECHO software supports QR code scanning to retrieve relevant cutting files saved in the computer to conduct cutting tasks, which meets the customers' requirements for cutting different types of materials and patterns automatically and continuously, saving human labor and time.
V. Roll Materials Feeding System:
The roll materials feeding system adds the additional value to PK models, which can not only cut sheet materials, but also roll materials such as vinyls to makes labels and tags products, maximizing customers' profits by using iECHO PK.
VI. Software:
The software uses the company's self-developed intelligent software ibright, cutserver, etc. It has many features:
Professional digital die cutting application software

Seamless connection with designing software and box design software, compatible with CDR, AI, Artios cad, packaging magician, etc.

Marking point plug-in software module can automatically generate registration marks in AI and CDR.

6 positioning method, compatible with different printing marks.

Automatically connect segments in cutting file to improve cutting efficiency.

Automatically set and generate dotted line in the cutting file.

Convenient operation: Convenience and efficiency is important symbol of IBrightcut system.

Highly personalized.You can configure the display and position of each shortcut according to your own habits and preferences.
* Technical Specification:
Machine Type

PK

PK Plus

Model

PK 0604

PK 0705

PK Plus 0604

PK Plus 0705

Cutting Area(L*W)

600mm x 400mm

750mm x 530mm

600mm x 400mm

750mm x 530mm

Flooring Area(L*W)

2350×900×1150 mm

2600×1000×1500 mm

2350×900×1150 mm

2600×1000×1500 mm

Cutting TOOL

UCT, CTT, KCT

UCT, CTT, KCT

UCT, CTT, KCT, EOT

UCT, CTT, KCT, EOT

Cutting Material

Car sticker/ Sticker, Card Paper, PP Paper, reflective material

KT Board, PP paper, foam board, car sticker, card paper, plastic, corrugated paper, grey board, ABS, magnetic sticker

Cutting Thickness

≦ 2mm

≦ 6mm (according to type of materials)

Material Holding

Vacuum System

Max Cutting Speed

1000mm/s

Cutting Accuracy

±0.1mm

Data Format

PLT; DXF; HPGL

Power Supply

220V±10%; 50Hz; 4Kw